Hi There...
We are Bikini Flavors, a lot of bikini for your buck! Established in 2008, we have been dedicated to creating high-quality and stylish reversible swimwear that allows you to express your creative side!
Style yourself as creatively as you can think up! 
When you live and play in coastal towns, swimwear is a necessity.   
For every occasion, we've got your sweet spots covered... 
What's your Flavor? 
MADE IN THE UNITED STATES
We are a boutique, Florida-based brand that empowers the everyday woman with the freedom to create and style her own swimsuit if she chooses to do so. 
Our unique concept is founded on a signature line of reversible swimwear that can be mixed -n-matched with interchangeable ties. Sold separately, these ties come in an array of colors and patterns.
OUR FOUNDER
Meet our founder, Colleen Ferris Thompson, a former fashion executive. Bikini Flavors was and still is a project of love for creating beautiful, sustainable and versatile swimwear! There was a void in the market for such swimwear, and being the fashionista she is, Colleen decided to fill that void!
Bikini Flavors has since been shown in Sports Illustrated's swimsuit edition, SURFING, SEVENTEEN, VIBE, WWD, and many other publications.
VIEW OUR PORTFOLIO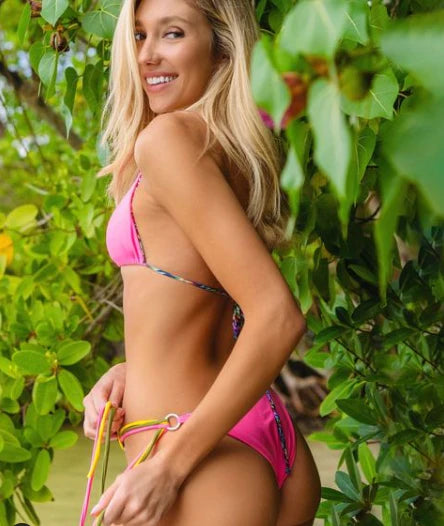 QUALITY REVERSIBLE DESIGNS
Here at Bikini Flavors, our main goal is to produce swimwear that gives you more for your buck! Swimwear in which you look and feel good! For this reason, we ensure our pieces are of outstanding quality so they can be worn year after year. You'll love the flattering cuts, timeless colors, quality fabric and interchangeable ties!
SHOP THE COLLECTION